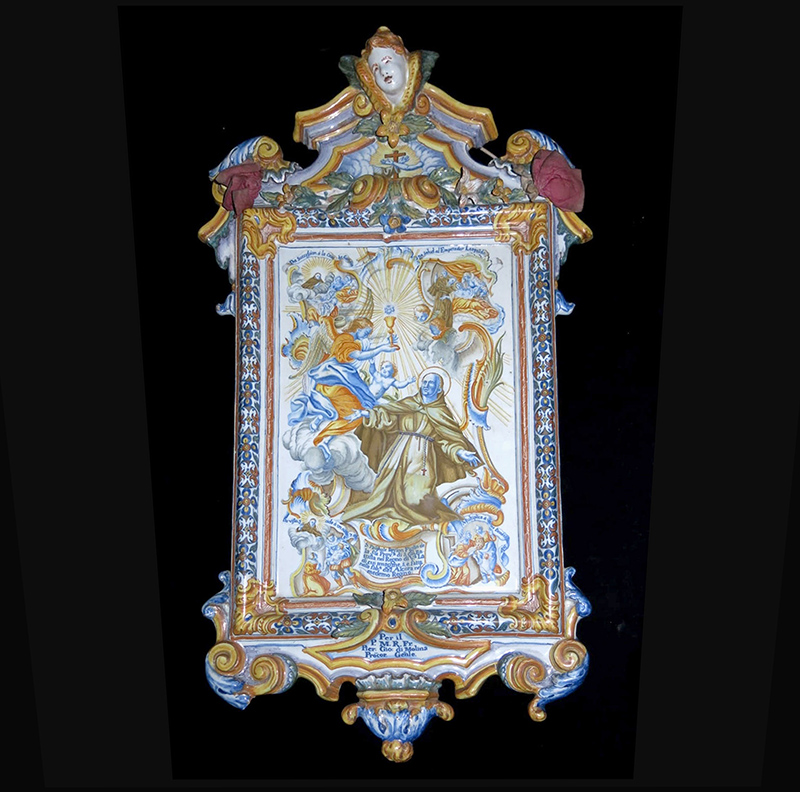 PLAQUE OF SAINT PASCUAL BAILÓN
Rectangular plaque topped by a divided pediment presided over by a cherub, with scrolls in the four corners and in the lower plume. The scene represents the apotheosis of San Pascual Bailón, receiving the Eucharist from the hands of an angel, surrounded by four scenes with the saint's miracles, explained by as many phylacteries.
At the bottom, cartouche in Italian: "S. Pasqhale Baylon Figlio of the Sta. Prova di S. Gio. Battista nel Regno di Va: La di cuí imagine s. é fatta nella faba del Alcora nel medemo Regno"; and below the dedication, which reads: "Per il P. M. R. Fr. Pier: Gio: di Molina Procor. Genle."
It comes from the old collection of the Marquis of Benicarló. The Count of Casal, in the 2nd edition of his monograph on Alcora ceramics, reproduces a similar plate belonging to the collection of the Marquis of Montortal, and mentions the existence of a third, in the Bouza collection.